Full-Size Hot Tub With Seven Seating Options
With seven ergonomic seats, the J-285™ is the largest within the J-200™ Collection. This spacious model is equipped with a number of innovative features, including stylish exterior lights, four cup holders and jetted seats for a relaxing hydromassage. A large jetted foot dome further extends the hydromassage offerings of the J-285™.
Owners can also benefit from a hassle-free approach to maintenance, with convenient tool-free cabinetry access and the CLEARRAY® UV-C System.
*Financing offer available with $1,000 down and payment will depend on credit
View the J-285™ Hot Tub in Your Own Backyard
Explore every inch of this Jacuzzi® Hot Tubs with an innovative 3D view! Take a closer look at the features and enjoy a better approach when planning your hot tub installation. It's like visiting a showroom to shop for a hot tub but from the comfort and safety of your home.
For more information about our Jacuzzi® Hot Tubs for sale, contact us today!
Click the icon in the corner to see the spa in your own backyard.
Features of the J-285™ Hot Tub
What better way to elevate your spa experience, than with built-in drink holders? Cool down with your drink of choice, all without having to exit the warmth and comfort of your spa. With a Jacuzzi® Hot Tub, every aspect of your experience is covered.
Proprietary Jets with Stainless Steel Accents
The proprietary jets are designed to strategically target the most stress-prone areas of your body. They apply soothing pressure to areas that need it most, creating a relaxing experience.
Easily access the important areas and parts of your hot tub with help from cabinetry that's designed with a tool-free approach. In a few simple steps and little strain on your body, you can quickly open the cabinet without tools for regular service, cleaning, maintenance, and repair.
While you can't see it, you're sure to experience it. The CLEARRAY® Water Management System uses ultraviolet light to sanitize the water. It works instantly and simply, with 99.9% of waterborne bacteria being neutralized within seconds of water entering the system. Enjoy a simplified approach to hot tub ownership and maintenance.
Patented ProClassic™ 50 sq ft Filter
No hot tub experience is complete without the right approach to filtration. The patented ProClassic™ Filter can help to remove dirt, debris and other contaminants from your spa. With easy to clean parts and a superior design, this filter can keep your water cleaner for longer and adheres to a less frequent replacement schedule.
2-Stage Filtration System with ProCatch™ Filter Bag
Enjoy the benefits of water that has been filtered and cleaned using an innovative filtration process. This Jacuzzi® Hot Tub is equipped with a cutting-edge 2-stage filtration system, complete with a ProCatch™ Filter bag. You can enjoy a more hassle-free approach to filtration and maintenance.
Comfortable Backlit Headrests
Sit back, relax and allow your Jacuzzi® Hot Tub to handle the rest. The ergonomic seats inside this spa are equipped with comfortable headrests that can allow you to completely let go of tension and let the jets work their magic. Each headrest is backlit, adding to the relaxation, ambiance and appeal of your hot tub.
Multi-Colored LED Lighting
Boost the ambiance of your next soak with multi-colored LED lighting! Perfect for a solo hydrotherapy experience or spending time with family and friends, you can adjust the settings based on your preference. With LED technology, these lights are built to last longer and operate at a wallet-friendly price.
Stunning exterior lights are installed into each Jacuzzi® Hot Tub. Each light complements the spa with a warm glow that truly elevates the style and appeal of your installation and outdoor space. Crafted with LED technology, these exterior lights are built to last longer and cost less to operate.
Optional Features of the J-285™ Hot Tub
The SmartTub® System can help you take an advanced approach to hot tub ownership. Connected via an app, you can monitor, control and interact with your Jacuzzi® Hot Tub from afar. Not to mention access to a number of helpful resources and support.
With a ProLast™️ Extreme Cover, effortlessly boost the style and efficiency of your Jacuzzi®️ Hot Tub. Not only will your water stay free from debris, but you'll lock in heat, maximizing energy efficiency during any season.
Watch the J-285™ Hot Tub Video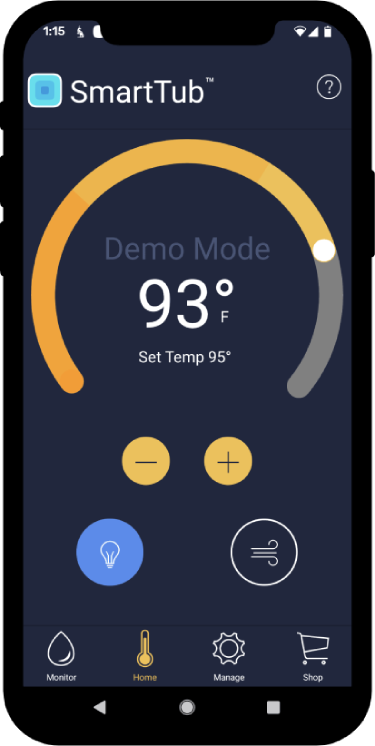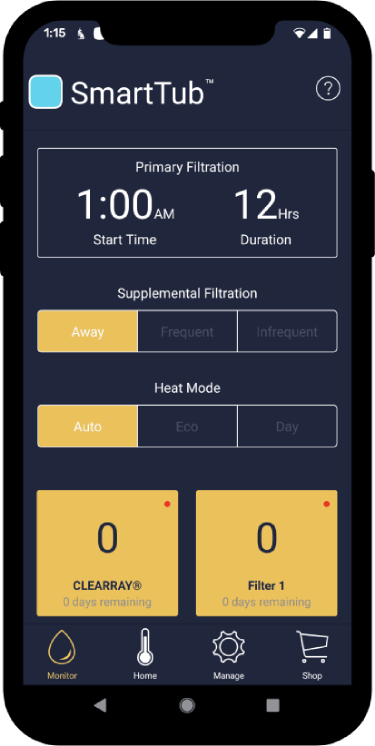 Your Hot Tub at Your Fingertips
Connect via a smartphone app to monitor and control your hot tub from afar, with the SmartTub™ System.
Reduce energy consumption by automatically scheduling and controlling the temperature of your hot tub with the new Smart Heat Mode.
Get Hot Tub Pricing & Inventory Now
Wondering how much your dream hot tub costs or if it is in stock? Budgeting is an important step when finding the best hot tub for your home and lifestyle. Just fill out this form with your information, the brand and model of the spa, and your nearest Spa Palace location.
Your privacy is 100% guaranteed. Your information will not be shared. By submitting the form, I consent to receive electronic communications from Spa Palace.