Suggested Retail: $26,695
Monthly financing as low as: $218.88*
Luxury Lounge Seating Hot Tub
Showcasing a stunning design and superior hydromassage, the J-585™ Hot Tub is the next generation of backyard luxury in the J-500™ Collection. Offering room for 6-7 adults, this model introduces a new PowerPro™ Jet for the hips and a new PX Jet placement at the wrist.
The stunning J-585™ Hot Tub makes for a perfect gathering place. Features a new PowerPro™ FX Directional Jet designed to relieve tension and improve circulation in the hips, while a new PX Jet placement delivers a focused massage to key pressure points in the wrist. Showcases a designer woven exterior and architectural corner lighting outside, and dual ProEdge™ Waterfalls and interior illumination inside.
*Financing offer available with $1,000 down and payment will depend on credit
Features of the J-585™ Hot Tub
The SmartTub™ System can help you take an advanced approach to hot tub ownership. Connected via an app, you can monitor, control and interact with your Jacuzzi® Hot Tub from afar. Not to mention access to a number of helpful resources and support.
Each Jacuzzi® Hot Tub features a design that is built with safety and style in mind, especially with the dual-elevated edges. This revolutionary architecture creates a timeless look while limiting water flowing or splashing over the edges.
Curvalux™ Designer Woven Exterior
The premium Curvalux™ exterior mimics the quality of high-end patio furniture, leading to a seamless backyard installation. Enjoy a modern shape with an elevated silhouette, wall-mounted controls, highlighting dual waterfalls for a soothing massage experience, and revolutionary architectural lighting design integrated into the cabinetry.
Your Jacuzzi® Hot Tub is equipped with a state-of-the-art touchscreen control panel. The contemporary and sleek design of your spa is only amplified by this glass control panel, blending into the design seamlessly.
Jacuzzi® Hot Tubs are equipped with a variety of jets that contribute to an exceptional hydrotherapy experience. PowerPro™ Jets come in many varieties, targeting different areas of your body with premium hydromassage, from tense shoulders to sore calves.
The PowerPro™ FX-D Jets create the perfect mix of air and water to gently apply pressure to small muscle groups. Simply adjust the pressure and allow the circular motion of this innovative jet to help soothe joint pain and muscle tension.
CLEARRAY® Active Oxygen™ System
Standard on all new Jacuzzi® Hot Tubs, CLEARRAY® Active Oxygen™ harnesses the natural, safe and effective power of oxygen and light to treat the water, keeping it cleaner and safer for longer. Monitor and control this water management system with help from the digital controls or your smartphone app.
Monitor and control the water management system in your hot tub with help from CLEARRAY® On-demand. Operate the maximum filter processes and filter the water inside your Jacuzzi® Hot Tub as needed.
5-Stage Filtration System
The 5-Stage Filtration System operates using the powerful hydromassage pump in your hot tub to circulate the water, sending it through the ProClear® Filter to remove large and small particles alike. This rigorous process continues around the clock, so you can enjoy clean and safe water whenever you wish.
ProStream™ Circulation Pump
The durable and powerful ProStream™ Circulation Pump keeps the water in your hot tub moving. This helps to filter the water, removing debris and contaminants of all kinds. It also helps to reduce the risk of stagnant water, which can lead to the growth of bacteria and an unsafe spa environment.
Floating Propolymer™ Foundation
Impervious to both nature and moisture, the Floating Propolymer Foundation makes installation easy. This innovative foundation can help to create a more structurally sound installation while helping to improve longevity with resistance to the elements.
Tool-Free Cabinet Removal
Access the vital parts of your hot tub with ease, with help from the tool-free cabinet removal design. In a few simple steps and with virtually no strain on your body, you can easily open up the cabinet door for regular service, cleaning, maintenance, and repair.
The Quick-Drain System makes it easy to drain, clean, and refill your hot tub. Attachable drain hoses and extensions can also be used to lead the water away from your spa, allowing for a faster and more controlled process when changing the water.
J-500™ Collection Illuminated Waterfalls
What better way to boost the ambiance of your next hot tub soak, than with dual-illuminated waterfalls? Sink into a relaxing spa soak, while the waterfalls help to set the mood and create an experience that is truly elite.
ProEdge™ Interior Illumination
Improving visibility is as important on the inside of the hot tub as on the outside. Once the sun sets, the ProEdge™ Interior Illumination can help to guide you while inside the hot tub, highlighting edges for a safer and more enjoyable spa experience all around. Utilizing LED technology, these lights are designed to last longer and cost less to operate.
Provide your head, neck, and shoulders with the comfort and relief deserved, without compromising the stylish look of your hot tub. The sleek cushioned headrests blend in seamlessly with the rest of your spa, contributing to a modern and sleek look while providing your head and upper back with the necessary support needed to relax.
Optional Features of the J-585™ Hot Tub
The BLUEWAVE® Spa Stereo System delivers premium sound through the speakers in your Jacuzzi® Hot Tub. Listen to the radio station or stream music from your mobile device using Bluetooth connectivity, from up to 30 feet away. A marine-rated seal in the docking area keeps things dry and moisture out.
Watch the J-585™ Hot Tub Video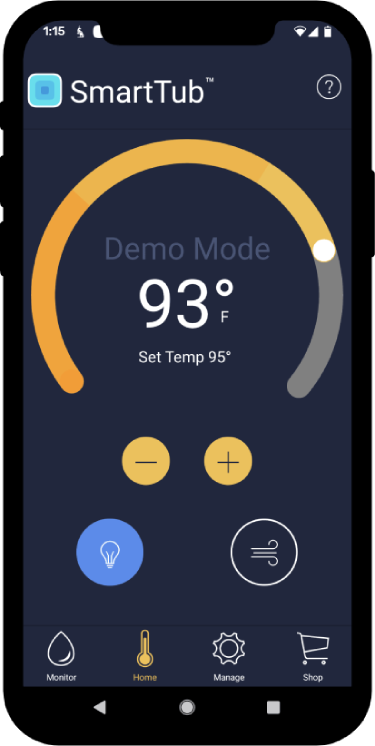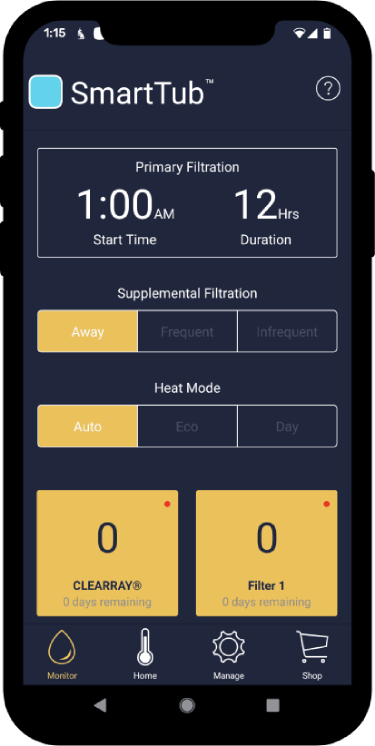 Your Hot Tub at Your Fingertips
Connect via a smartphone app to monitor and control your hot tub from afar, with the SmartTub™ System.
Browse the J-500™ Collection
Explore the J-500™ Collection from Jacuzzi® Hot Tubs. This collection can be seen at one of our locations in Colorado.
Get Hot Tub Pricing & Inventory Now
Wondering how much your dream hot tub costs or if it is in stock? Budgeting is an important step when finding the best hot tub for your home and lifestyle. Just fill out this form with your information, the brand and model of the spa, and your nearest Spa Palace location.
Your privacy is 100% guaranteed. Your information will not be shared. By submitting the form, I consent to receive electronic communications from Spa Palace.