Plenty of Room for Family and Party-Sized Groups
About the McKinley® Hot Tub
The largest model in the 680™ Series, the McKinley® model offers up to seven seating options and the soothing relaxation of classic hydrotherapy combined with Sundance craftsmanship that lasts. The McKinley® spa is the largest model in the 680™ Series and offers up to seven spacious, ergonomic seating options with proprietary jets and air controls with massage options that allow for maximum relaxation. A simplified LED control panel, cup holders, multi-colored interior LED lighting and exterior lighting, beautifully designed cabinetry with tool-free access all enhance the elevated experience of the McKinley® spa.
*Financing offer available with $1,000 down and payment will depend on credit
View the McKinley® Hot Tub in Your Own Backyard
Explore every inch of this Sundance® Spas with an innovative 3D view! Take a closer look at the features and enjoy a better approach when planning your hot tub installation. It's like visiting a showroom to shop for a hot tub but from the comfort and safety of your home.
For more information about our Sundance® Spas for sale, contact us today!
Click the icon in the corner to see the spa in your own backyard.
Features of the McKinley® Hot Tub
MicroClean® Mini Filtration System
Enjoy water that is both clean and safe with the MicroClean® Mini Filtration System. As water flows through this filter, particles, debris, and other contaminants are caught and trapped, so you can easily remove them all at once when you clean the filter.
CLEARRAY® UV-C Technology
The CLEARRAY® Water Purification System uses proven ultraviolet light to sanitize the water in your hot tub, disinfecting bacteria, viruses, and algae.
Each Sundance® Spas hot tub is equipped with an efficient heater to heat your hot tub as needed. The heating element warms the water, increasing thermal efficiency and preventing corrosion.
Sundance® Spas hot tubs are built with premium materials chosen with longevity in mind. The RigidBond™ Shell is no exception. The proprietary shell manufacturing process results in acrylic that is both stronger and more energy-efficient, by increasing thermal retention properties.
Sundance® Spas are built with durability, longevity, and quality in mind, with no compromise on style. Stainless Steel Jet Trim helps to create a more sleek and stylish aesthetic, so your spa looks as good on the outside as it performs on the inside.
A streamlined LED control panel simplifies spa activities.
Cabinetry and Exterior Lights
UV-resistant synthetic cabinets with tool-free installation Free access and outside lighting make it simple to keep your spa in good working order.
Optional Features of the McKinley® Hot Tub
SmartTub® Water Management System
Enjoy an advanced approach to hot tub ownership with the SmartTub® System. Once connected via an app on your mobile device, you can control, monitor, and interact with your hot tub from afar. Whether on vacation or working late, you will always be informed when it comes to your hot tub.
Watch the McKinley® Hot Tub Video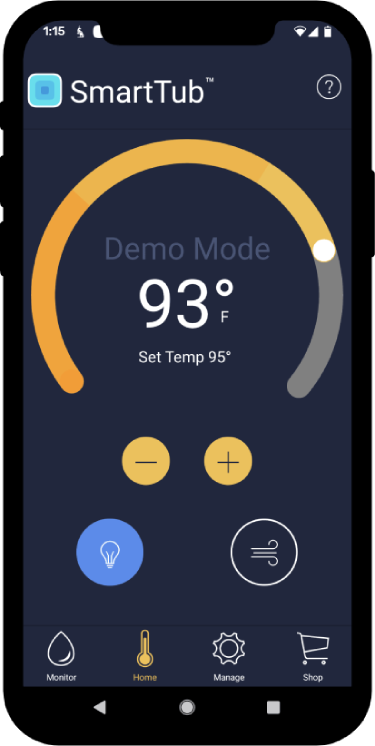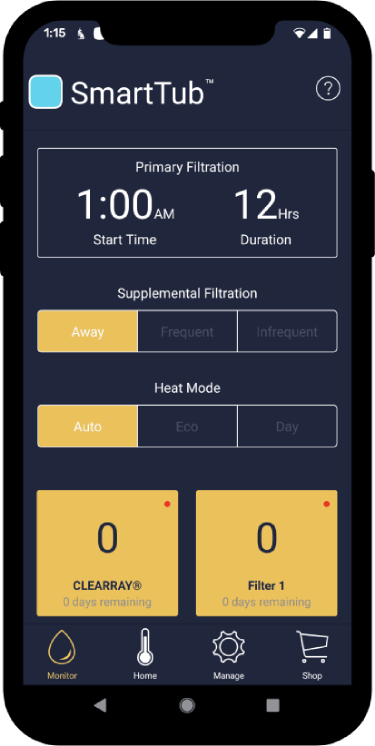 Your Hot Tub at Your Fingertips
Connect via a smartphone app to monitor and control your hot tub from afar, with the SmartTub™ System.
Reduce energy consumption by automatically scheduling and controlling the temperature of your hot tub with the new Smart Heat Mode.
Get Hot Tub Pricing & Inventory Now
Wondering how much your dream hot tub costs or if it is in stock? Budgeting is an important step when finding the best hot tub for your home and lifestyle. Just fill out this form with your information, the brand and model of the spa, and your nearest Spa Palace location.
Your privacy is 100% guaranteed. Your information will not be shared. By submitting the form, I consent to receive electronic communications from Spa Palace.